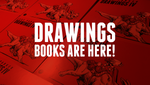 I got the books back from the printer and they are BEAUTIFUL! I'm really proud of this book. Colors are rich. The paper is firm. It's a solid book.
Here, take a look for yourself:
There you go. If you like this kind of stuff, there's 128 pages of it in this book. 
Shipping now.