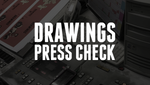 I went and did a press check for the DRAWINGS books this week.
A press check is where you take pages straight from the printing press and check their color to see if it's looking right. The press these books are getting printed on is a huge 4 color offset machine about the size of a semi-truck. Watching it churn out DRAWINGS pages was impressive and noisy!
The pages needed a little color fixing, but after a few runs we got them pretty close to matching the other books. Here they are next to each other for comparison:
And get a look at the control panel for this machine! Looks like something out of the original Star Wars movie:
These books are running on schedule and should be ready to ship out in March as planned.
I'm having them print extra copies so if you haven't ordered one yet it's not too late: