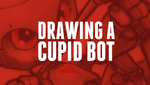 What if Cupid used an army of robots to carry out his work? That was the idea this week when I sat down to do a Valentines Day themed drawing. 
I used the supplies I got this month from my Art Snacks box and submitted this to the monthly #artsnackschallenge. 
I took process photos so I could share them here:
Step 1: Photoshop Sketch
 Step 2: Print the sketch out
Step 3: Get art tools ready
Step 4: Overlay vellum and trace the sketch
Step 5: Base rendering stage
I also removed the sketch underneath and erased the smudging outside the drawing.
Step 6: More rendering
Step 6: (Cont) More rendering 
Step 7: Erase smudging again
Step 8: Add highlights and reds
Finished image I posted online:
These art supplies from my Art Snacks box worked great. I highly recommend them. A list of the supplies can be found here:
To subscribe to ArtSnacks click here, and use the code: JAKEPARKER to get 10% off your first month of supplies.
For a list of the other art supplies I use go here:
That's all for this transmission. See you next week!
-Jake