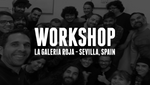 I had an incredible opportunity to teach a workshop for La Galeria Roja in the scenic city of Sevilla, Spain. 18 people from around Spain joined me for the three day workshop where I taught:
- Drawing fundamentals or my approach to drawing everything
- How to draw robots and machinery
- How to design characters
- How to draw comics

I also did a couple demonstrations for the class. One of a robot chicken and the other of a steam punk girl.
I also had time to explore the city and take a few pictures. So much of what I saw of the city are things I want to put into SkyHeart. This trip was definitely a creative bank account filler. Here's a few photos of this beautiful city.
One of the best parts of traveling somewhere to do a workshop is you have a built in group of people to hang with and show you around the city. I had so much fun with these artists from all walks of life. Some where new to art, others were students in art school, and some were skilled professionals. It was great to see everyone learning and creating at their own level. 
Thanks to David at La Galeria Roja for bringing me out. I hope to visit your beutiful city again some day!
Jake